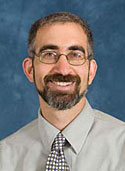 Dr. John Stracks learned about TMS even before going to medical school and has spent much of his medical career studying and using the most effective treatment methods for TMS. He has trained extensively with Dr. John Sarno and Dr. Howard Schubiner, leading educational group classes for patients with TMS, in addition to doing individual patient consultations.
In March 2009, he co-hosted the first international meeting ever held for TMS professionals. Dr. Stracks always treats patients from a holistic perspective, taking into account mind, body, spirit and emotions when determining the most effective treatment strategies.
Dr. John Stracks Information
After working for many years as a social worker, Dr. Stracks graduated with honors from the University of Chicago Pritzker School of Medicine in 2005 and then completed a residency in family medicine and a fellowship in integrative medicine at the University of Michigan in Ann Arbor, MI.
Dr. Stracks is board certified in both family medicine and integrative holistic medicine and practices at two locations in Chicago and Northbrook, Illinois.
Dr. Stracks enjoys participating in many sports, with biking, golf, and yoga being particular favorites. He proudly completed his first "century" bike ride recently. Dr Stracks likes to read, actively follows politics and especially loves time spent with his wife and two children.
John Stracks M.D. Contact Info
John Stracks, MD
1300 West Belmont, Suite 201
Chicago, IL 60657
666 Dundee Road, Suite 1504
Northbrook, IL 60062
(312)945-8526