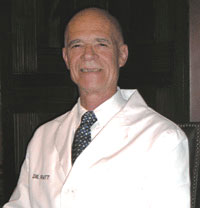 Dr. Paul Pratt has a long history of dealing with back pain, both as a patient and care provider. A fall off a roof in 1953 created poor health, above average but diminished physical capacity and development accompanied by chronic neck and low back pain. A continuing search for answers by his parents as a child, continuing on in his own personal search in the military and civilian life came to a crisis in his early twenties. He knew that his time to find answers was running out because his physical health was beginning to weaken his mental strength and will.
By chance he saw an advertisement by the legendary Dr. Jim Sigafoose, chiropractor. Under Dr. Sigafoose's care he began to rapidly recover his health in the early 1970's. He made the decision to attend chiropractic school even though he had considered a career in the surgical field due to his experiences in Vietnam.
Dr. Paul Pratt Practice History
Doctor Paul Pratt, D.C. opened Wellness Chiropractic Center in 1981. He envisioned a wellness-oriented healthcare facility that included chiropractic care, physiotherapy and health education for people of all ages, so as to improve the quality of their patients' lives. His commitment to chiropractic has led to succeed in his vision, and he has created a brand new clinic which includes the latest technology with a great support staff. Dr. Pratt and the staff pride themselves on friendly, knowledgeable patient interaction and an efficient office policy.
It was not until he had been in practice for a few years that he began to hear from seasoned doctors that they were not experiencing the results they had once achieved in their earlier practice years. This became more evident as Dr. Pratt began to see this not only in his own practice, but once again, in his own health and that of his family.
His research showed that it wasn't only a few chiropractic doctors that were brave enough to realize increasing treatment failures, but health care clinicians as well, including medical doctors, surgeons, physical therapists, osteopaths, and medical researchers. He began to research their journals, and came across Chiropractic Biophysics. Here he found an accumulation of knowledge from all concerned clinicians from around the world. Dr. Pratt began traveling on weekends and holidays to obtain further training. In 2002 he obtained certification in Chiropractic Biophysics, the most researched technique in the history of chiropractic. It is also the most published in peer review Index Medicus journals.
Dr. Paul Pratt and Chiropractic Biophysics
CBP combines traditional chiropractic techniques with a structural approach aiding the patient and the doctor in correcting or beginning to correct static abnormal upright posture through specialized spinal adjusting, exercise and structural tractioning equipment. Although, he began obtaining better results for patients and himself, he felt there was something missing in his treatment protocol. Dr Pratt wished to discover how to better affect spinal stenosis and all its causes. Even though Dr. Pratt is more satisfied now after 28 years of practice with his treatment protocol, he realizes that no one procedure provides everyone with the answers they desperately need, want and hope for. Dr. Pratt is quoted as saying:
"I have become an avid promoter of our treatment protocol. The results I have seen are truly miracles and I am grateful for the doors that God has opened for me and our patients. Still, those few that do not respond are always a reminder that more answers are needed. However, I and my staff work hard to achieve our high success rate which is in the high 80's percentile. In a time of diminishing results for spine pain, this is an accomplishment to be proud of and it gives hope to those that have been written off as incurable."
Dr. Paul Pratt and Spinal Decompression
"I am a passionate speaker for the DRX9000 system, along with structural rehabilitation in sunny Tucson, Arizona! The machine is one of the most widely recognized methods of providing spinal decompression as a non-invasive, non-surgical therapy. I have been using the DRX9000 for over 3 years to treat herniated discs, degenerative disc disease, spinal osteoarthritis and sciatica. My team prides itself in an over 92% success rate using high-tech equipment, to treat appropriate spinal conditions. In over my 28 years, I have seen nothing more impressive than the benefits that have changed the lives of our patients, without the risks, complications or poor results of spinal surgery."
Dr. Paul Pratt Professional Summary
Nutrition has also become a major factor for not only Dr. Pratt and his family, but for his patients, as well. Each of his patients are continually questioned and reminded of the need for better nutrition. Dr Pratt's treatment philosophy is well detailed in his quote:
"Those that seek our services it is our passion and drive to change their lives to a more active life enabling them to participate in the enjoyment of those things that are interest to them. "Our patients are the heart of our clinic, and we believe that serving people through chiropractic is an honor. We strive to give the best of care to our patients and to contribute to their health by helping them to live their lives as effectively as possible. I practice a variety of techniques, and it is important to us that each patient gets the best techniques for him or her. A personal, friendly approach to effective treatment is our goal."
Dr. Pratt Credentials and Contact Information
Distinguished Fellow of CBP since 2003
Certified ChiroBiophysics
Sherman College of Straight Chiropractic 1981
Palmer College of Chiropractic 2003
University of Washington-Seattle 1977
Centralia Community College 1975
US MARINE CORPS 1967-1970
Dr. Paul Pratt
Wellness Chiropractic Center
3102 N Country Club Rd
Tucson, AZ 85716
(520) 327-6100