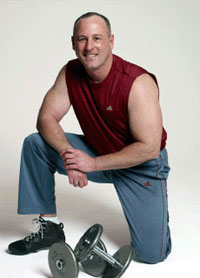 Dr. Mitchell Yass is a respected and well known physical therapist and the founder of PT2 Physical Therapy and Personal Training.
Dr. Yass is an outspoken critic of the way many cases of back pain are misdiagnosed and he has revolutionized treatment of many chronic conditions using simple and effective exercise therapy programs. This is a virtual miracle for patients who were told they had no other treatment available to them except for spinal surgery or the slavery of ongoing pharmaceutical dependency.
Dr. Yass is also noted for providing tremendous support for the idea that most chronic pain conditions are not caused by structural irregularities in the spine, placing him light years ahead of most of his contemporaries.
Mitchell Yass has worked with The New York Islanders Hockey Team and also provides special focus to helping improve motor skills in Cerebral Palsy sufferers.
Mitchell Yass Credentials
Dr. Yass graduated from SUNY Brooklyn Health Science Center with a Bachelor's Degree in Physical Therapy and earned his Doctorate in Physical Therapy from The New York Institute of Technology.
Dr. Yass was a contributing author to Muscle Training Illustrated and Fitness Plus.
He was honored as personal trainer of the month by Exercise for Men Only.
Mitchell Yass was also the creator of the health television series, "Fit for Life!" Dr. Yass is a proud member of the American Physical Therapy Association.
Dr. Mitchell Yass Practice
At his physical therapy facilities, PT2 in Farmingdale, NY and Boca Raton, FL, Mitchell Yass emphasizes strength and resistance training as the main methods of rehabilitating patients. He has discovered that muscle imbalances and other soft tissue pathologies are the actual causes of pain for many chronic sufferers and boasts an incredible cure rate among treated patients. He has shown that in most cases of neck and back pain, the tissue creating the pain signal is muscle leading to targeted strength training as the only true method of resolving the pain.
X-rays and MRIs have been proven to be invalid in identifying the cause of back pain. His view has been recently validated by the American College of Physicians. They have recommended that physicians no longer utilize these tests to identify the cause of back pain citing that in 85% of cases of people coming to a primary care physicians, their pain could not be attributed to a specific disease or spinal abnormality (herniated disc, stenosis, arthritis, etc).
Dr. Mitchell Yass is a popular and successful personal trainer, helping people of all abilities and ages to get in the best shape of their lives.
Dr. Yass also has trained many other therapists in his approach and has contributed to back pain treatment worldwide through his book, "Overpower Pain: The Strength Training Program that Stops Pain without Drugs or Surgery".
He currently performs a live radio show called "Stop The Pain; I Want My Life Back" on Tuesday mornings at 10:30 AM EST on WBZT Talk Radio (1230 AM) which can be heard from Port St Lucie to Miami, Florida and is streamed live on wbzt.com.
Dr. Mitchell Yass Contact
PT2 Physical Therapy
3-6 North West Drive, Merritts Road
Farmingdale, NY 11735
Phone 516.420.2900
4800 N. Federal Hwy
Suite D306
Boca Raton, FL 33431
Phone # 561.367.3211
Fax # 561.367.3214
mitchellyass.com
---
Articles by Dr. Yass
Herniated Discs Do Not Cause Sciatica

The Medical Establishment and Chronic Pain

Pain Medication is Not the Only Alternative

Call for a New Medical Specialty

Cleveland Clinic Back Pain

American College of Physicians Back Pain Diagnostic Guidelines
---
Enjoy an interview with Mitchell Yass concerning his book, Overpower Pain.
---