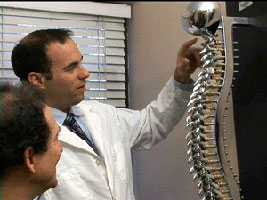 Dr. Steven Shoshany has been practicing chiropractic in the New York area since 1996. Dr. Shoshany is an advocate of non-surgical spinal decompression and uses both the DRX 9000 and the new Cox Flexion Distraction Decompression Table.
Dr. Shoshany also utilizes core strengthening techniques such as physical therapy and the PowerPlate whole body vibration system.
Dr. Shoshany is a specialist in Sports Rehabilitation and gives every athlete (professional, amateur or weekend warrior) individual attention.
Dr. Steven Shoshany Credentials
Dr. Shoshany graduated from the College Of Staten Island, CUNY 1990 and went on to earn his Doctor of Chiropractic Degree from Life University in 1996. He completed his internship at the Life University Health Clinic in Marietta Georgia.
Dr. Shoshany is a member of The New York Chiropractic Council, The International Chiropractic Association and The International Chiropractic Pediatric Association.
Dr. Shoshany was issued a Service Mark from The United States Patent and Trademark Office for NYCDISC. NYCDISC is a spinal decompression institute where Dr. Shoshany is the Founder and Clinical Director.
NYCDISC trains and consults decompression specialists on methodology, as well as management of spinal decompression offices.
Dr. Shoshany Board Certifications
National Board of Chiropractic Examiners Parts 1-4
New York Chiropractic – Chiropractic Adjunctive Therapeutics 1995
Certified Chiropractic Extremity Practitioner Council on Extremity Adjusting
New York State Board of Examiners License # X008479
New Jersey Board of Examiners License # 5091
Dr. Shoshany Practice
Dr. Shoshany believes in treating every patient with gentle and complete care. Patients are taught about the crucial aspects of spinal maintenance, proper nutrition and exercise to optimize health.
Dr. Shoshany is a real New Yorker and is available for emergency sessions when required. Dr. Shoshany prides himself on offering desperate patients an alternative to surgery for dealing with degenerated and herniated disc conditions, as well as effectively treating the symptoms of a wide range of back pain syndromes.
Dr Shoshany recently moved to a new office and added an MD to his practice, digital radiographs, the Spineforce Core strengthing machine by LPG and MedX equipment to further meet the needs of his patients.
Dr. Shoshany Contact
Dr. Steven Shoshany D.C, C.C.E.P
632 Broadway
Suite 303
NY, NY 10012
(212) 645-8151
drshoshany.com

---
Articles by Dr. Shoshany
Best Way to Treat a Pinched Nerve
---